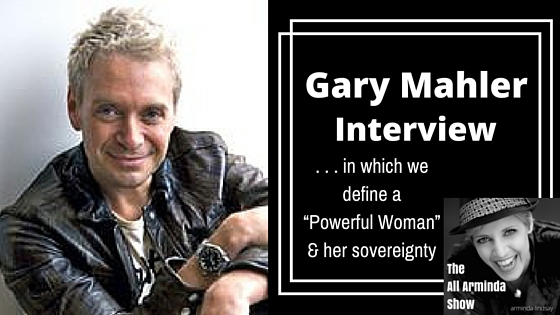 Gary Mahler & A Woman's Sovereignty
The All Arminda Show
Is it unusual that I'm bringing in a man to talk about women? Not this man, methinks 🙂
What can you look forward to learning?
The woman who knows her power and isn't afraid of being and showing herself to the world — the world changes because of her

That value, sovereignty, inheritance resides within each of us — and only our stories get in the way

Unless and until I love and value myself, will I be the sovereign of my life and when I step into that value I will bless everyone around me because I don't need them to be love because I already am love

Loving ourselves is such a deeply powerful experience and you're the only one who can do it
How to Increase Your Power
Notice what you do and who you be
Choose different
Take actionable steps to live the life you imagine
Choose you
Future Vision Exercise
List all the things you're grateful for (read daily)
Write personal "I am" statement (read daily)
Live it
Choosing YOU
This is who I say I am, now I only have to choose it
Know your value
Create your sovereignty
Be around men who appreciate everything you bring
Be who you need to be and you'll attract the right sort of men
Gary references both Steve Hardison & Steve Chandler, remarkable men who have impacted countless lives with their love and service.
Gary's Bio
Besides women's surf retreats,  we create bespoke events for team building, leadership work, and executive groups: 3 day events in Malibu & 5 day events in Hawaii.
Gary works with highly-driven people to do that thing they want with all their heart, that thing they might not know how to describe yet. That thing that scares the hell out of them.
He challenges how his clients see themselves, think about themselves and believe in themselves.  Gary firmly believes and lives the principle: when you change the way you think about yourself and you change the way you behave, your life WILL transform. He will never, ever let you forget what you tell him is important to you. When you are ready, he'll be your Life's Purpose Operations Manager, building your dreams together.