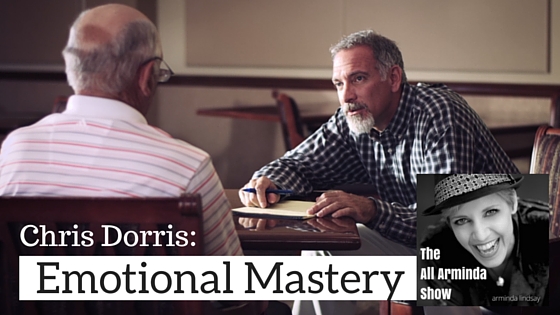 Chris Dorris & Emotional Mastery
The All Arminda Show
Some of you may already be familiar with Chris Dorris. Not long ago I offered my readers access to his powerful audio program on commitment. If you missed that opportunity, it's not too late. Just send me an email <coach@armindalindsay.com> and I'll be happy to send you the link. It's definitely worth the listen.
For those of you not familiar with him, Chris is essentially the psychological equivalent to a physical trainer and has been immersed in the world of pushing people past their perceived limits since 1994 in the capacity of advisor, consultant and Mental Toughness Trainer and Personal Transformation Coach to elite athletes, executives, entrepreneurs and individuals worldwide. He conducts workshops and seminars on Mental Conditioning, Leadership, and Peak Performance.
"Your life unfolds according to the way that you think." — Buddha
What if you had a class that teaches you how to think and to strengthen the quality of your thinking skills? To practice using your mind to positively improve your world?
Was Freud wrong with his stimulus/response theory?!
The good news is you can IMMEDIATELY change your thoughts with CHOICE, and with practice we can alter our perceptions of reality. Suffering is merely the result of judging your sadness.
Your choice is to either experience the world problematically or opportunistically.
Options/interpretations of reality allow you to have, do and be what you want.
Chris' Recommended Daily Practice
Catch Your Negative Thoughts
Own Your Thoughts
Replace Your Interpretations With an Upgrade
Becoming aware of the invisible (inside) stuff is unconscious learning!
"If something is troubling you, it's not the thing itself, but your estimate of it, which you can revoke at any time." — Marcus Aurelius
Chris makes it very clear: He is not selling happy thoughts; he's selling options — you have a choice.
You cannot create excellence and mastery in a sustainable way if you choose a low grade interpretation of reality. — Chris Dorris
"Create the state; don't wait." — Chris Dorris
Become the person who doesn't have complaining be a thing that goes on in your life. Start stopping complaining.
Here's the Louis Schwartzberg video on GRATITUDE:
You always have access to gratitude. The only thing that goes away is your ability to remember you always have access!
Maintain a gratitude journal.
We chat about our friend Andrew McKee and his amazing book titled Change Your Game, Change Your Life.
Love this interview? Please share it.
Loving you,
arminda