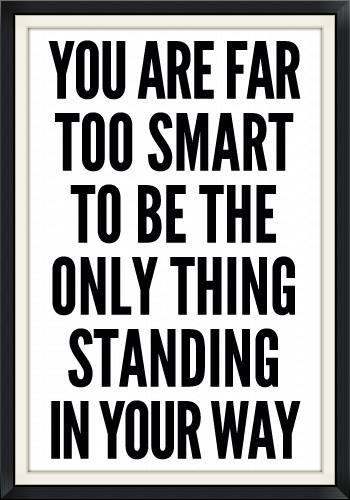 We're all guilty of getting in our own way. But only all the time.
The truth is we make up lies, then believe those lies, and play them on a repeating loop inside our heads. It's no wonder we feel we lack or that someone else is better than us or others are accomplishing more or are capable of bigger things.
When was the last time you caught yourself believing:
I'm great at what I do; I just don't know how to run the business side of things.
I'd love to be in that career but I don't even know where to start.
Oh, I could never. . . .
I don't know how to motivate my team.
I've got a great story, but I'm no writer.
Trust me when I say the "how" is the least of your worries. What you need is a "want."
Identify a time in your life when you REALLY wanted something (anything) and (against all odds) you got it. You didn't allow your lack of knowledge of the "how to" to stop you. YOU figured it out!
Admit 2 things:
1. You're really smart!
2. You need to get out of your own way. Yesterday.
What do you REALLY want right now?
Now go figure out your how.
If you like this post, you can subscribe to receive regular doses of encouragement and inspiration to help you on your way: