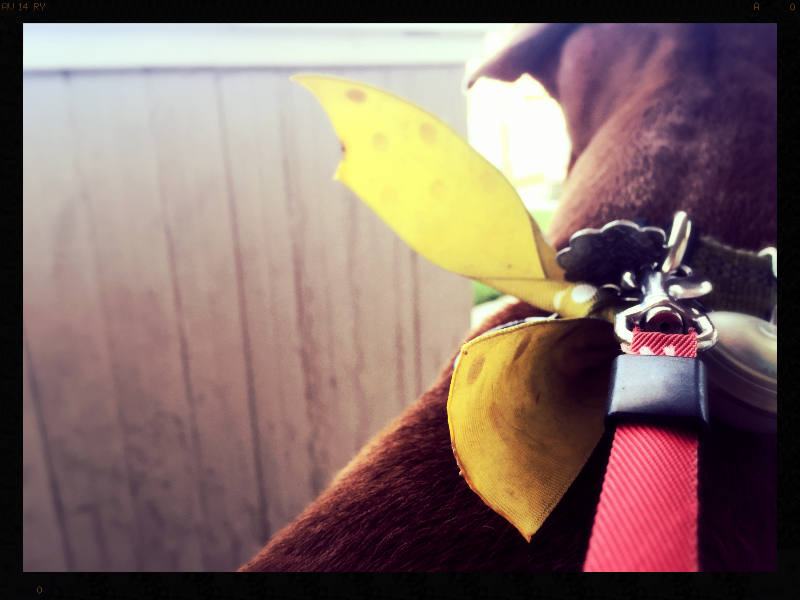 Eli the Pitbull is neurotic.
He eats furniture. He doesn't play well with the other dogs. He won't eat his food. He is terrified of small humans. He wets himself when he is too scared to do anything else. He has back-logged issues I can't even begin to know because we rescued him only two years ago. He had five years of conditioning before we ever met and fell in love.
Our veterinarian encouraged us to tie a yellow ribbon on Eli's collar as part of a broader initiative among dog owners as a way to alert others to approach with caution when they see the ribbon.
Unlike humans, dogs can't always choose the way they behave. Depending on their upbringing and the way their humans have treated and taught them — their personalities and tendencies can become fixed.
Humans, unlike dogs, have a tendency to use yellow ribbons to excuse and/or explain their behavior as fixed rather than simply choosing something else.
Yellow ribbons come in all different shapes and sizes:
I'm terrible at remembering names.
You know me: I'm always late!
I don't do well with change.
I'm such a slob; I can't help it.
That's the way it's always been done!
I struggle with motivation.
This list is far from comprehensive.
Are you proudly waving any yellow ribbons?
Who would you be without the ribbon?
Untie it.
And then approach yourself with love.
If you like this post, you can subscribe to receive regular doses of encouragement and inspiration to help you on your way: