Christina Berkley Interview
The All Arminda Virtual Show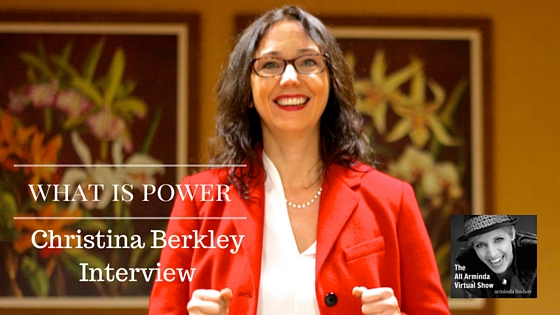 Christina Berkley embodies power in the most loving context  and it was an absolute honor interviewing her.
I know you'll love this candid discussion around power and how we define it, relate to it, use it and shy away from it.
If you're curious at all about this sometimes nebulous force, enjoy all that Christina has to say and I feel certain you'll come away with a different perspective and some tools you can use right now to shift your own sense of power within.
If you're interested in connecting with Christina, she's a coach and speaker living in New York City. Her clients are extraordinary beings and leaders in their lives. Whether she's working with moms, politicians, celebrities, musicians, activists, ​entrepreneurs, ​coaches etc., she is madly interested in each person's unique expression and capacity to change themselves and the world.
The search and evolution of Power has been central to her life. Although she's trained with some of the best coaches and teachers alive today, her greatest learnings have come from living on the edges, both on purpose and not. Her mission is to pass on that wisdom and get people connected to their own infinite reserves of power, tremendous capacity for love, ​and ​to help them wildly succeed ​in their businesses, ​and prosper along the way.
Loving you,
arminda
If you like this post, you can subscribe to receive regular doses of encouragement and inspiration to help you on your way: