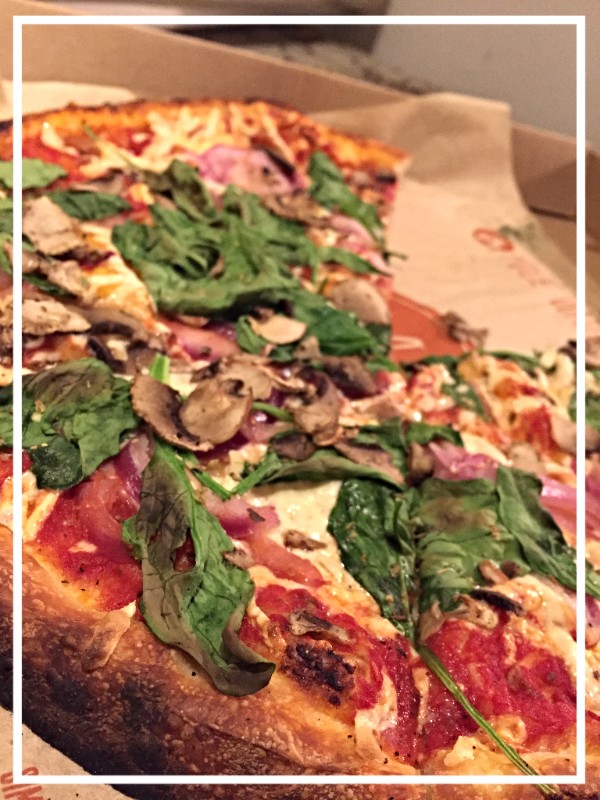 I'm writing to you from Chicago, Illinois, where pizza is a pretty big deal.
I love pizza.
Dairy, however, does not love me, and this teeny little barrier often prevents me from eating a traditional pizza with cheese on top.
On rare occasions I find a pizza place with vegan cheese as an option and on those occasions I am always in the mood for a slice.
Blaze Fast Fire'd Pizza on E Ontario Street in Chicago is just such an establishment, where building custom pizzas is what they do best.
Their process is simple: pick your sauce, cheese, and toppings and watch it bake.
My turn: I asked my server if she would please put on a pair of clean gloves before handling my pizza dough. With a genuine smile she happily obliged.
Regarding the sauce, everything I saw had cheese floating on top and when I told her I cannot have any dairy she immediately whisked my round of dough to the opposite end of the line where a separate cheese-free container of sauce was waiting.
After the vegan cheese was applied I selected several additional toppings to complete my custom pie.
While my pizza baked in the flames, the cashier was nothing but kindness and complimented me on my eyes and thanked me for coming in tonight.
The young man in charge of removing my pizza from the oven and slicing it before putting it in the box called me over to his workstation to show me the pizza cutter he used was one they reserve for pizzas with the vegan cheese so as not to contaminate with cheese and/or meat from the other pizzas.
As I left with my pizza box in-hand, all three of those young people thanked me again for coming.
The system those employees used demonstrates exactly the way for any business, regardless of industry, to increase sales: don't sell, serve.
They served me by honoring my request for clean gloves.
They heard my dairy issue and provided a custom sauce option for me.
They recognized my dietary difference & offered toppings that might be useful for my needs.
They saw me as a person and complimented something unique in me.
They included me in their process to show me they respect what differentiates me.
Don't focus on a number. Don't see potential dollar signs above your clients' heads. Don't rush to convince them what they need, according to you. Don't focus on your budget. And don't wait for the phone to ring.
Serve your clients.
Give knowledge, time, a call, recommendations, observations, something extra, with no expectation of a sale.
Hear their stories.
Ask what would be useful for THEM and not for you.
See them as unique and with unique qualities, strengths, and needs.
Include them in your conversations and respect them as a valuable part of your organization.
Do not try to sell them a pizza.
Just love them for being in front of you and notice how pretty their eyes look to you.
Your tip jar will always overflow.