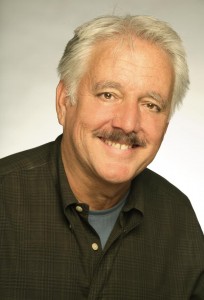 To say that Steve Chandler being part of my life as my coach and mentor has changed my life is not said lightly.
Andy Fry of the Be Happiness Project eloquently shares the learning available to each of us on this exciting journey of being human:
The way I think of this transfer of wisdom and love working is like an abundant waterfall as it passes down from person to person. It doesn't stop there either because it's recycled from great lakes and rivers of learning and experience back to the source in a beautiful unbroken cycle, like the rain and water that sustains us!
That abundant waterfall of wisdom and love and service is Steve Chandler personified. And I relish every single opportunity that is mine to drench myself in his coaching and in his example and in his books.
For Steve's birthday I wanted to tell him "Happy Birthday," of course, but I also wanted to express in a small way that his impact on my life has had — and continues to have — a ripple effect that we won't likely ever be able to measure.
In creating this birthday video for him, I was able to continue impacting lives as I discussed with each of the participants more about Steve and his positive influence on my life.
I don't share all of this to suggest that others haven't also influenced and impacted me. I do want to acknowledge that along the journey there are standout individuals whose paths cross ours at just the right time, for just the right reasons, and with such a force that the direction of our sails is altered from that moment forward.
Steve is such a force in my life.
With gratitude,
If you like this post, you can subscribe to receive regular doses of encouragement and inspiration to help you on your way: