Melissa Ford on Service Interview
The All Arminda Virtual Show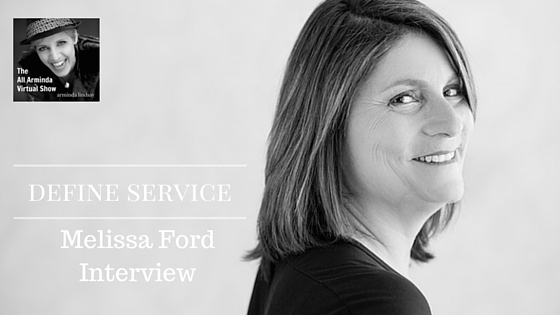 Melissa Ford is remarkable. No, seriously. She's one of the most amazing women I know, and I know a lot of amazing women. It was such an honor to talk with her about service and to gain clarity around this widely misunderstood behavior and quality.
On the (rather early) morning of our scheduled conversation, the first thing Melissa said to me was
I would only get up this early for Arminda or Santa Claus.
And that is a high praise I'm taking to the bank!
My recommendation is that you listen more than once and really let sink in these refined nuances of what service really means and allow yourself time to identify areas in your world (professional and personal) where you can make some adjustments.
What You Will Discover In This Episode
Widely misunderstood definition of service = means giving and giving and giving with expectation of nothing in return
Lots of expectations built into that model & it drains your energy, makes you small and your business doesn't grow
This definition doesn't work, especially when I need clients and money
Operating under this definition creates resentment, manipulation and strategies to get something back
True Definition of Service = Giving/helping/loving fearlessly without attachment to an outcome
Money is part of service.
Can't serve unless people are willing to pay for your product or service
Nobody values anything if it's free
Must include yourself in the equation of service
Service and love mean letting go of your ego = that's true power
Love for a living because love does pay the mortgage
Love expresses itself in many ways; there is not just one version of love
Melissa Ford Bio
Melissa Ford, Business Coach, JD, PCI Certified Coach
As a coach, transformational speaker, entrepreneur and lawyer, Melissa brings deep insights, laser focus and diverse, rich experiences to her clients. For over 20 years she has been empowering people (entrepreneurs, small business owners, executives, parents, individuals) to create positive, permanent change in their lives, enabling her clients to do more and to have more.
You can find Melissa on her website and on Facebook.
If you like this post, you can subscribe to receive regular doses of encouragement and inspiration to help you on your way: